SpendHQ Ranks as Value Leader in Spend Matters' Latest Spend Analytics SolutionMap
If you're looking for procurement solutions, a great starting point to help you shortlist procurement technology vendors – one consulted by nearly 300,000 procurement practitioners in the past five years -- is Spend Matters' SolutionMap rankings of providers by solution category. The bi-annual study's extremely comprehensive analysis of vendors and customer feedback is a highly valuable independent resource for procurement, finance, and IT teams.

SpendHQ is very pleased to announce that we were ranked in the Fall 2022 study's top "value leader" quadrant for spend analytics for three organization types: Large multinationals (over $1 billion in annual revenue); Upper mid-market ($100 million to $1 billion in revenue); and small to mid-sized enterprises (less than $100 million). While 19 other spend analytics providers were evaluated for the category, the value leader quadrant includes vendors who rank high on both analyst and customer scores.

Here's a look at our Spend Intelligence platform's ranking for the "large" organization types as defined by Spend Matters:

RECOMMENDED POSTS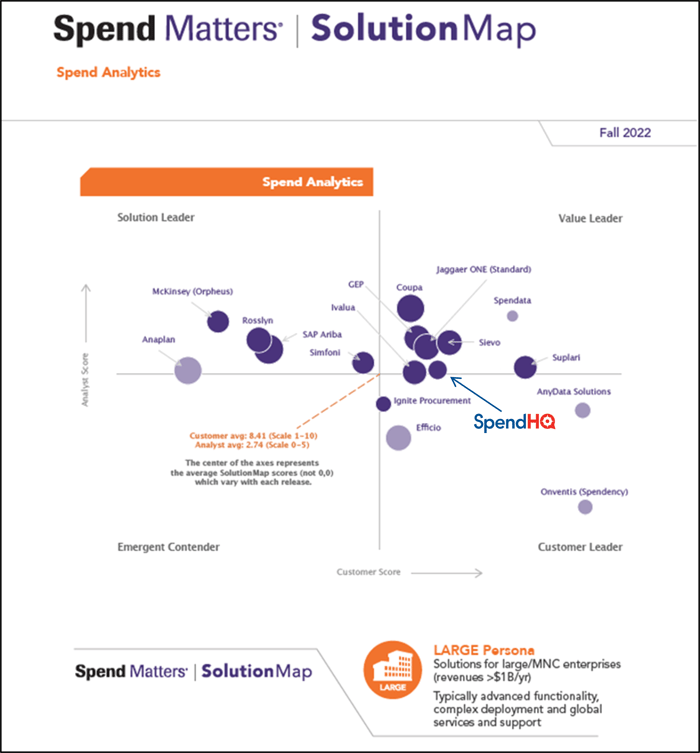 Large and multinational companies have made up the majority of SpendHQ's 350+ clients over the years, although we also work to provide solutions to private equity and group procurement organizations (GPOs) as well. These clients typically seek market-proven solutions that involve more flexibility for complex data environments and deployments, higher security standards, and strong customer support capabilities.
Here's a look at our ranking for the "mid" (upper-midmarket) organization types as defined by Spend Matters: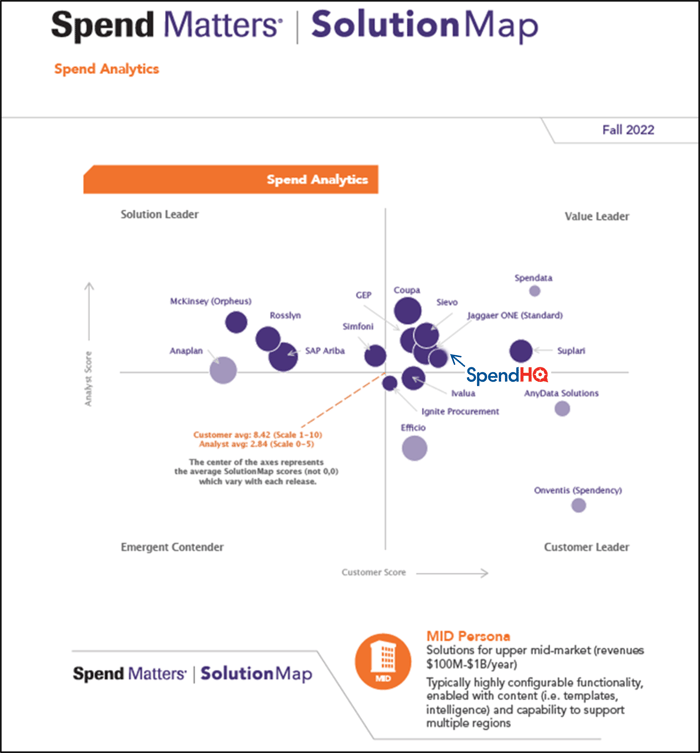 SpendHQ has been on the SolutionMap previously -- most recently in the spend analytics' customer leader quadrant in spring 2022. But thanks to recent product advancements, our analyst scores moved us to that value leader quadrant, which includes a mix of suite providers and other best-of-breed players: Coupa, Jaggaer ONE, Sievo, GEP, Simfoni, and Suplari.
"We are extremely honored to receive this ranking from the experts at Spend Matters, as they have recognized the ongoing product advancements we make to our SpendHQ Spend Intelligence platform," said Jason Bray, chief technology officer of SpendHQ. "Over the past year, we continued to deliver to our clients' additional value to improve their data processing speed and scalability, automation of spend insights, additions of benchmarking for supplier diversity, ease of use, security, and customer support."
SpendHQ was also included in Spend Matters' 50 Providers to Know list published in October 2022, as was Per Angusta who merged with SpendHQ in July to add its Procurement Performance Management (PPM) platform to our solution portfolio. As the integrations between these products become more robust, it means even more innovation for customers to rapidly turn spend analytics into new procurement initiatives, improve savings and non-financial performance, and continuously optimize their planning-to-execution cycle.
To learn more about Spend Matters' SolutionMap methodology and how procurement teams can access the details behind the rankings, please visit Spend Matters: https://spendmatters.com/solutionmap/
We invite you to see a 30-minute custom walk through of our product and how we might be a value leader for your organization, giving you accurate, meaningful spend insights, benchmarks, and performance reporting – especially as procurement faces ongoing cost-savings and supplier negotiation pressures.